Clean Out your diet
lose weight, look younger, feel more alive
You are what you eat. It's that Simple. If you can get yourself into the habit of eating a healthy balanced diet, rich in vibrant ingredients you will look and feel sensational from the inside out. No fads, gimmicks, shakes or pills necessary.
Mother Nature put everything you need to stay young, energetic and vital into plants and proteins, and thankfully we live in a country where everything you need is available in abundance 24 hours a day! You honestly should not be eating processed rubbish from a packet or factory – you deserve more than that!
Poor diet and lifestyle are responsible for almost 95% of modern illnesses – weakened immune systems, damaged DNA & genetics, toxic overload and the consumption of carcinogens, refined ingredients and additives are making the population overweight, sick, tired and moody. The good news is, you can avoid all these issues, be fit and well in no-time and it's easier than you think.
How it works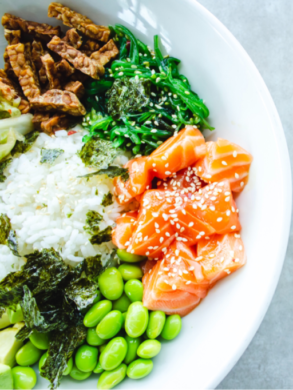 If you're ready to make a change and give yourself the gift of good nutrition, you have definitely come to the right place. We offer 1-2-1 or small group sessions that will completely change how you think and feel about food.
We don't just throw a diet plan at you and leave you to it. Our coach Kim will educate, inspire and motivate you to clean out all the crap from your diet and replace every meal with simple, nutritious and delicious homemade recipes perfectly tailored to your tastes.
Nobody teaches nutrition like we do, and we have a 100% success rate.
The Course
"Give me 28 days, and I will give you a whole new relationship with food" Kim Michelle – Nutritional Therapist
That's all it takes. 28 days to clean out your diet, learn everything you need to know about food, and break all your bad habits. Simple. Fast. Effective.
Costs & what's included
Available face to face or online, the 28 day nutrition course is a complete education and bespoke coaching programme which will radically improve your health. Every single person we've ever worked with reports improvements in their body mass, energy levels, concentration levels, sleep patterns, hormones, digestive health, mental health, emotional well-being and weight management. Along with reductions in stress, bloating, body fat, food cravings, inflammation, pain, headaches, IBS symptoms, water retention, fatigue, brain-fog and menopausal/mentrual symptoms.
Included in the package:
6 weeks of personal coaching and nutrition education (one week prior and one week post the 28 days programme)
A complete understanding of key nutritional facts to include, macro and micro nutrients, enzymes, pro-biotics, phytochemicals etc
Recipe starter pack, and new recipe inspiration each day
Weekly menu options and choices of meal ideas
Bespoke, tailored coaching sessions to fit around your lifestyle and goals
Accountability, food diary analysis and weekly sessions for diet review and forward planning
Advice on food prep, cooking and storing ingredients in advance
BONUS – Due to COVID-19 Pandemic, we are upgrading all nutrition clients to our Complete Wellness Course Completely free of charge.
Cost for the Course: £249 all included.
We also have a small retail section for supplements, wholefoods and fresh herbs at our clinic. Speak to us for more details.
imagine where you'd be today if you'd started 28 days ago?
"i lost over a stone in my first 28 days with Kim – best thing i ever did"
STEPHEN – LORRY DRIVER